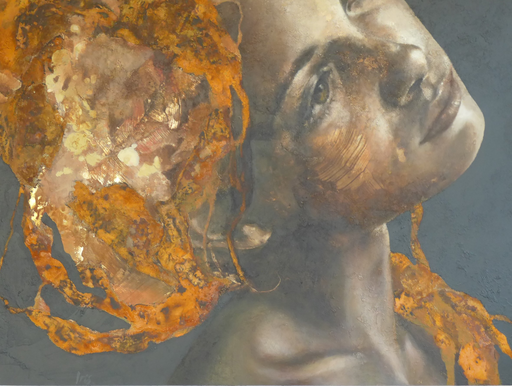 After attending the artschool in Den Bosch, Iris first entered the world of business before becoming an artist herself in 2007. Since then, she has been working full-time on her paintings that have continuously grown with her over the years.

Female Grace
Perhaps the thing that strikes you first is the understated grace as they reveal their inner landscape: A narrative gaze that feels hopeful at the same time.

The warmth of rust

Nowadays she searches for the perfect balance between realism and abstraction within this genre. Characteristic of her current work is the rust caused by the use of iron paste. The warm color of rust contrasts with the gray tones of the background.
Over the years she has built up her portraits with all kinds of materials that give the skin its unique structures, instead of a smooth perfect skin. A reflection of their inner beauty/character. Her passion for large work contributes to this style that she has acquired herself. Iris will keep searching for new insights to visualize the feminine grace with a touch of nature. Growing up in a forest area in the Netherlands, the love for flora and fauna is present as organic forms that portray the more abstract parts of the artwork.

Her work is purchased both nationally and internationally.

‹‹ Open your eyes and dream! ››
Iris Schreven, 1971

Contact via E-Mail or WhattApp:
info@irisschreven.nl | +31 6 13491883
TIP
Check out my YouTube channel. Here you can watch the process of some of my paintings.