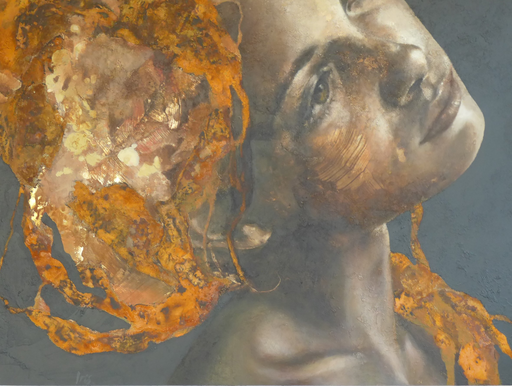 After attending the art academy in Den Bosch, Iris first entered the business world before becoming an artist in 2007. Since then, she has been working full-time on her paintings which have continuously grown with her over the years.
Perfect imperfections
She creates women with elegance, modesty and with hopeful emotions. Fearless in her experimentation, she is looking for the perfect balance between realism and abstraction in a way that will keep the viewer intrigued. Her portraits are build up layer by layer, seeking for a connection with her own state of mind, starting in an abstract style working her way to realism, until a face reveals. Music/lyrics and nature that surrounds her are two of her favorite instruments to find the right atmosphere. The aluminum is processed to create fine structures. Even the facial parts contain these perfect "imperfections", which play an important role in her work.
The warmth of rust
Growing up in a forest area in the Netherlands, the love for nature is present in her palette of earth tones. Characteristic of her current paintings on aluminium is the use of rust, caused by oxidation of metal particles. The warmth of rust contrasts beautifully with the greys and umbers of the background.
In addition to paintings on aluminum, she also paints on copper, wood and linen. These surfaces provide a different approach and technique.
Iris will continue to search for new insights in order to strive for the highest quality. Her work is purchased both nationally and internationally.
"Open your eyes and dream!"
Iris Schreven (1971)
TIP
Check out my YouTube channel. Here you can watch the process of some of my paintings.